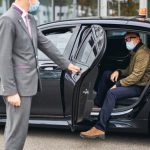 We all know that Dubai is one of the most visited cities in the world, and for good reason. The city is well known for its incredible architecture, affluent lifestyle, and beautiful beaches. For many visitors to the city, the experience would not be complete without a comfortable and reliable airport transfer. This is where the Dubai airport transfers comes in handy. Just when you are about to book your hotel. Mark your destinations and planning your tour for the next week. Don't forget to contact our professional Dubai airport  transfer service to travel to your destination without delaying a moment after landing on the Dubai airport.
The Dubai International Airport is one of the largest in the world and is well known for its high standards of service. It is also the busiest in the world and handles a large number of passengers daily. With the large number of travelers, the airport can become
Just imagine you are on a trip to a brand-new location. You understand how fun traveling to that location can be. You want to enjoy the landmarks, tourist destinations, restaurants, luxury hotels and everything but you don't know anything about roads and location at all. Imagine coming to Dubai and not traveling around. It would be nothing but waste of money and time. If you don't want to be in that situation then you should Rent a Car with Driver in Dubai. Car rental with driver service is perhaps one of the best things for the tour in Dubai.
Dubai has no shortage of man-made marvels to natural beauty. Its shiny black roads welcome everyone to drive and take a look around. However, driving on your own can be a stressful task. This is why a full day car rental with driver service in Dubai can help you to enjoy the most without any stress.